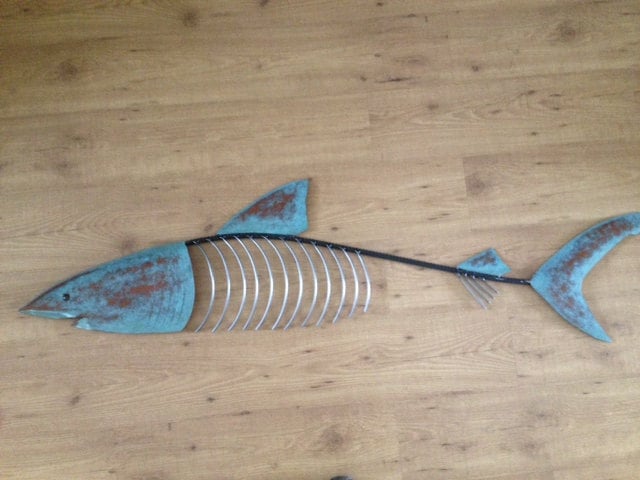 - This Shark sculpture is great for your Tropical,Beach,or Coastal theme

- Shipping in the US is $50.00

- I cut all the pieces of my fish with a Plasma cutter. A Brass hammer and a block of wood. Sculptures are welded,NO jigs are used.The fish is cleaned and ready for finish.

- The finish on this sculpture is a Copper with a Aquq Patina, On the Head ,Tail,And Fins. The Bones are a natural steel color. Sculptures are protected with 2 coats of a interior/exterior Satin clear coat.

- 2 rings are welded to the frame on back of sculpture for easy hanging.

- sculptures are made to order.

- Sculptures can be mede to face Left <///-< or Right >-///>

- These techniques help to make each sculpture unique and a work of art.

- Sculpture is signed on back.

- Size is approx 48in X 15in

- Sculptures take 7 to 10 days to finish.

- Please contact me if you have any questions.

- Please contact me for shipping cost outside the U.S.

- Thank you for your interest.
Payments
You will be able to pay for your purchase with major credit cards or Paypal.
Shipping from United States
All custom hand made fish art will be made and ready to ship in 7 to 10 working days. Sculptures will be shipped UPS Ground or USPS .
Refunds
All Sculptures can be returned before 7 days. Customer will pay return shipping. If YOU have a problem with any sculpture PLEASE contact me.
Additional
Custom orders,Please contact me. Wholesale customers Please contact me for info.