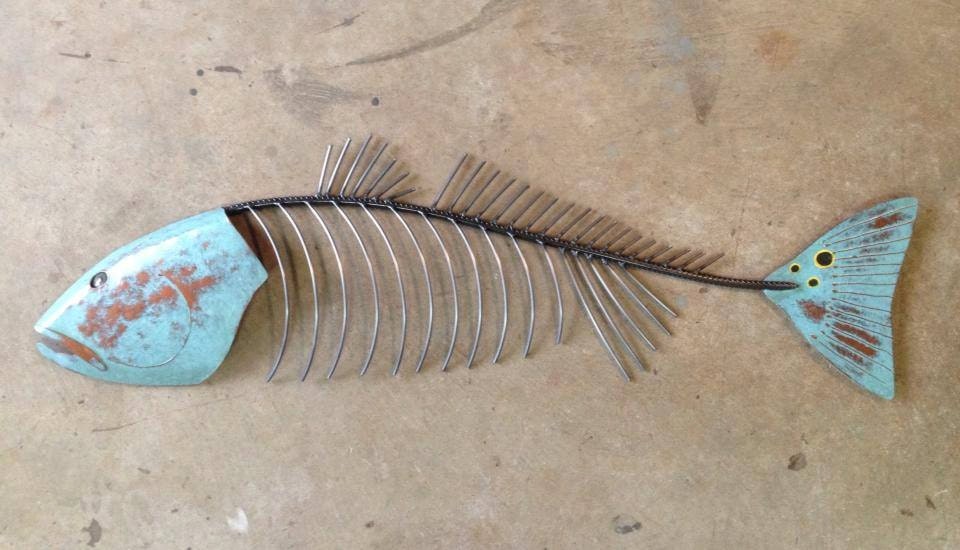 - This sculpture is great for your Tropical, Beach, or Coastal theme.

- Redfish is 35in long

- Shipping in the US is Free

- I cut all the pieces of my fish with a Plasma cutter.A Brass hammer and a block of wood. sculptures are welded, NO JIGS are used. Then fish are cleaned and ready for finish.

- The finish on this fish is a COPPER with AQUA PATINA, on the head and tail. The bones are a natural steel color. Sculpture is protected with 2 coats of a Interior/Exterior Satin clear finish.

-- Build time is 7 to 10 working days

- Rings are welded onto the back of fish for easy hanging.

- Sculptures are made to order.

- Fish can be made to face Left <///-< or Right >-///>

- These techniques help to make each sculpture unique and a work of ART.

- Sculpture is signed on back.

- Size approx 35in L X 15in H

- PLEASE contact me if you have ANY questions.

- Please contact me for cost of shipping outside the U.S.

- Thank You for your interest.