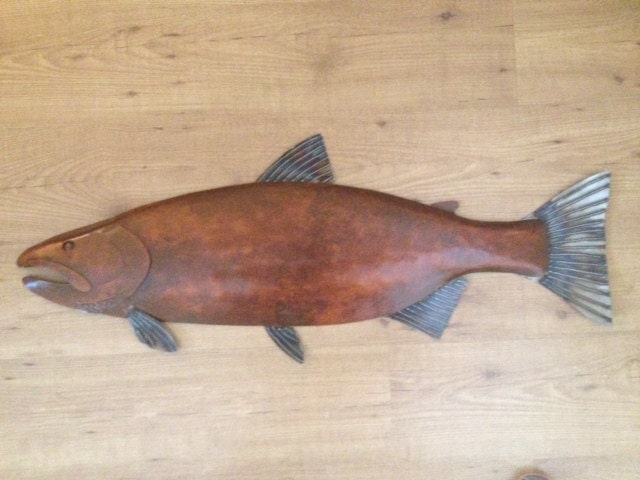 - This Salmon is great for your Lodge Cottage Cabin theme.

- Salmon is 35in long

- Shipping in the US is Free

- All my sculptures are made of steel . Each piece is cut with a Plasma cutter by hand. I shape each sculpture with a Brass hammer and a block of wood. next they are welded, NO JIGS are used. After that I clean the sculpture and its ready for the finish.

- The finish on this Salmon is a Custom Rust Patina. Its protected with 2 coats of a Interior/ Exterior Satin clear finish.

- 2 rings are welded to the frame in the back of the sculpture for easy hanging.

- Sculptures are made to order.

- Salmon can be made to face Left <///-< or Right >-///>.

- The techniques I use help to make each fish unique and a work of art.

- Fish is signed and has the year it was made on the back.

- Size Approx 35in L X 14in H

- I do my very best to get all sculptures finished within 10days

- PLEASE contact me with ANY questions.

- Please contact me for shipping cost outside the U.S.

- Thank You for your interest.